Download our Menu
Price ranges vary based on technician, their experience and their achievements.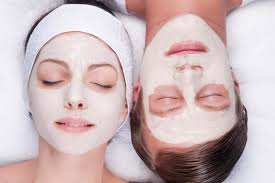 Just for 2 Treatments
Our variety of couples treatments are sure to meet your needs. Customized massages, pedicures, facials or a combination can be selected for your day together. Our luxurious couples suite provides a tranquil environment for your special occasion.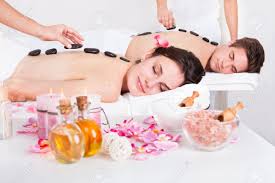 Couples Massage Escape
Come in and enjoy a relaxing customized massage side by side in the same room with your special someone. These massages are popular for anniversaries, wedding parties, Valentine's Day, Birthdays and more. Each person can choose between any of our massages. Two of our technicians will simultaneously provide the massage services customized to helping relieve the tension in your muscles, allowing you to achieve optimal health and relaxation. Tables are close enough to talk during your massage, or many simply enjoy each others company in silence.
We are proud to be one of the only spas with a dedicated luxurious couples suite to accommodate you and that special someone for your Couples Escape treatment in the Aurora and Naperville areas of Illinois.  Come in and find out why our Couples Escape treatments book out so far in advance.
Therapeutic Massage & Organic Facial for 2
Don't want to commit to just a massage? Don't worry we can provide you with a Couples massage and Organic Facials available side by side in the same couple's suite. Enjoy the opulence of our couples massage and couples facials side by side with your loved one.  Our licensed massage therapists will help relieve the built-up tension in your muscles, and our licensed estheticians will help to rejuvenate your skin giving you a healthy, younger glow.
30 minutes
60 minutes
90 minutes
Couples Pedicure Treatment
Enjoy a pedicure side by side with a guest. Our intimate pedicure lounge is perfect for kicking back and enjoying a fun time with a friend, boyfriend, husband, mother, sister, or anyone else you can drag along. Our complimentary mock tails will give you something to sip on while you reminisce and are pampered by our professional nail technicians.
Classic Pedicures
Signature Pedicures
Tandem Facials
Instead of massage or pedicures, you and your special someone can instead choose any one of our facials to be done side by side in the same couples suite. These services are very popular for mother/daughter, friends, couples…etc. Enjoy and relax while our estheticians help to rejuvenate and replenish your skin, keeping you looking the most vibrant version of yourself you can remember.